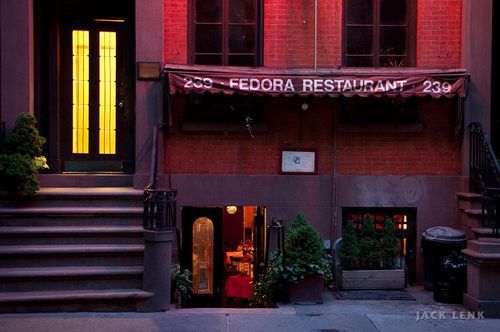 Fedora, West 4th Street
Last Saturday, my girlfriend Hailey and I spent a leisurely afternoon in downtown Manhattan, and after obligatory coffee at Saturdays and an extended hang-out at Carson Street, we grabbed dinner at Fedora in the West Village. I'll usually recommend a restaurant if asked or tweet about one after a good meal, but I felt that this place deserved a little more attention. I think that, generally, I eat a bit more than the average person, so that may or may not validate my opinion. Regardless of how you feel, I'll give it to you anyway; this place is really special.
Fedora is not big, nor is it obvious. If the neon "Fedora Bar" sign was out, you would likely pass right by the small awning hanging over the tiny swinging basement door. If the sign was out, it would be tragedy. After passing through the door, the room opens into a romantically lit space, divided down the middle with a long bar on the left and about twelve tables on the right. Cozy would be the appropriate word to describe the space. At seven, a half hour after we arrived, the bar was filled with locals, and all the tables had been taken.
What was put on our table over the next hour was incredible. There is no doubt that Fedora serves American cuisine (although the name "Fedora" inspires the thoughts of the hat and Italians, it was named after the bar's original owner). There is a small part of me that wants to say that Fedora serves American comfort food, because the food is comfortable as hell, but it's something a bit more than that. The menu was small, but it didn't seem it at all; here's what we ordered alongiside a couple rounds of red ales:
Oysters: two varieties of Massachusetts oysters, beautifully presented with homemade dressings
Fried Tuna Dumplings: pan-seared tuna wrapped and deep-fried, topped with homemade slaw, mustard aioli, and homemade pickles (fucking amazing)
Wagyu Sirloin Flap Steak (Hailey): Ordered rare (because Hailey is a boss), with aligot potatoes and the best red wine sauce you will ever taste
Pork Chop (Me): Insanely big portion of perfectly cooked pork, topped with a light cream sauce, beans, chopped carrots, onions, and a bed of arugula
Freshly Baked Madelines: with lemon sabayon (a perfect desert for people who aren't really that into desert, aka me)
The plates didn't leave you feeling cheated; the food was both comforting and engaging, not to mention damn delicious. If I wasn't a broke college kid, I would have been all over the cocktail list too. It was the perfect environment for a date. If you're a dude looking for a spot to bring a date or girlfriend, I cannot recommend Fedora enough. Hailey and I were both impressed, it was romantic, and we had an awesome time. That's what it's all about.