Crafting quality blades is a passion at Blok Knives – a name to be reckoned with in the knife making industry of the United Kingdom. The man behind these beautifully carved knives is Ben Edmonds, once a graphic designer. Ben left his career as a graphic designer in search for creativity. What began as a test of creativity has taken the shape of a promising handmade knives brand started by Ben in 2013 in a 17th century Derby Abbey mill complex.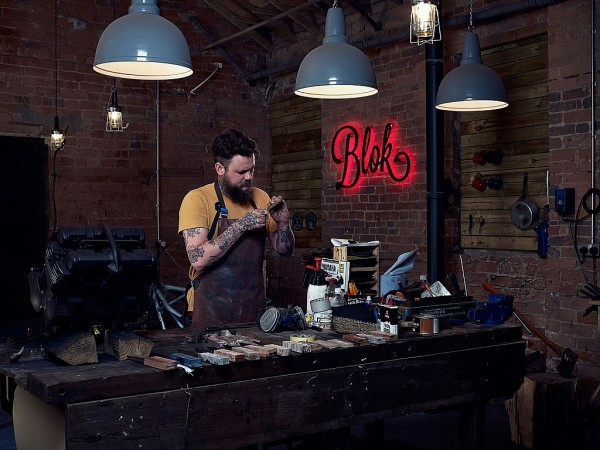 What's So Special About These Blades
In this machine and technology dependent world, Blok Knives continues to carve each blade by hand. Each of the knives made at this company is unique and pretty gorgeous – something you would love to treasure for a lifetime!
Think of quality handmade knives, and you will instantly be reminded of Benjamin James Edmonds of Blok Knives, who is carving out wonderful handmade pieces of carbon steel and beautiful woods. Located in Derbyshire, Blok Knives has come to be known as a premier name in the field of quality British-made knives, with owner Ben leading a new wave of craftsmanship. With handles hand carved from the wood of locally sourced trees, these kitchen knives are things of beauty that will make a spectacular addition to your kitchen accessories.
With commitment to quality and excellence, the knife-making company exhibits highest level of craftsmanship to custom design knives upon request with the signature Blok Knives' etchings – kitchen knives you will be proud to own. Ben lovingly produces highest quality knives that can easily turn into an extension of your arm in the kitchen.
The knife-making process at Blok Knives is indeed a lengthy one, given the amount of attention to detail paid in making every single blade. The process begins with the laser cutting of the blades from a sheet of steel, ensuring the knife is wide enough not to hit the work surface and flat-edged at the handle to give you a good grip. Apart from the unique hand-making process, what makes the kitchen blades unique is the curved tip that facilitates an efficient rocking action.
Blok Knives has paired with Solidwool to create an amazing unit of woolen handled knife with a matt finish blade patina that are great for general purpose chopping and carving. The kitchen range at Blok Knives represents how primal, amazing, and unique knife craftsmanship can be. With a waiting list for five months, Ben creates individual models for kitchens personalized with text or graphic blade etchings you would love to show off!
Photography Edward Fury